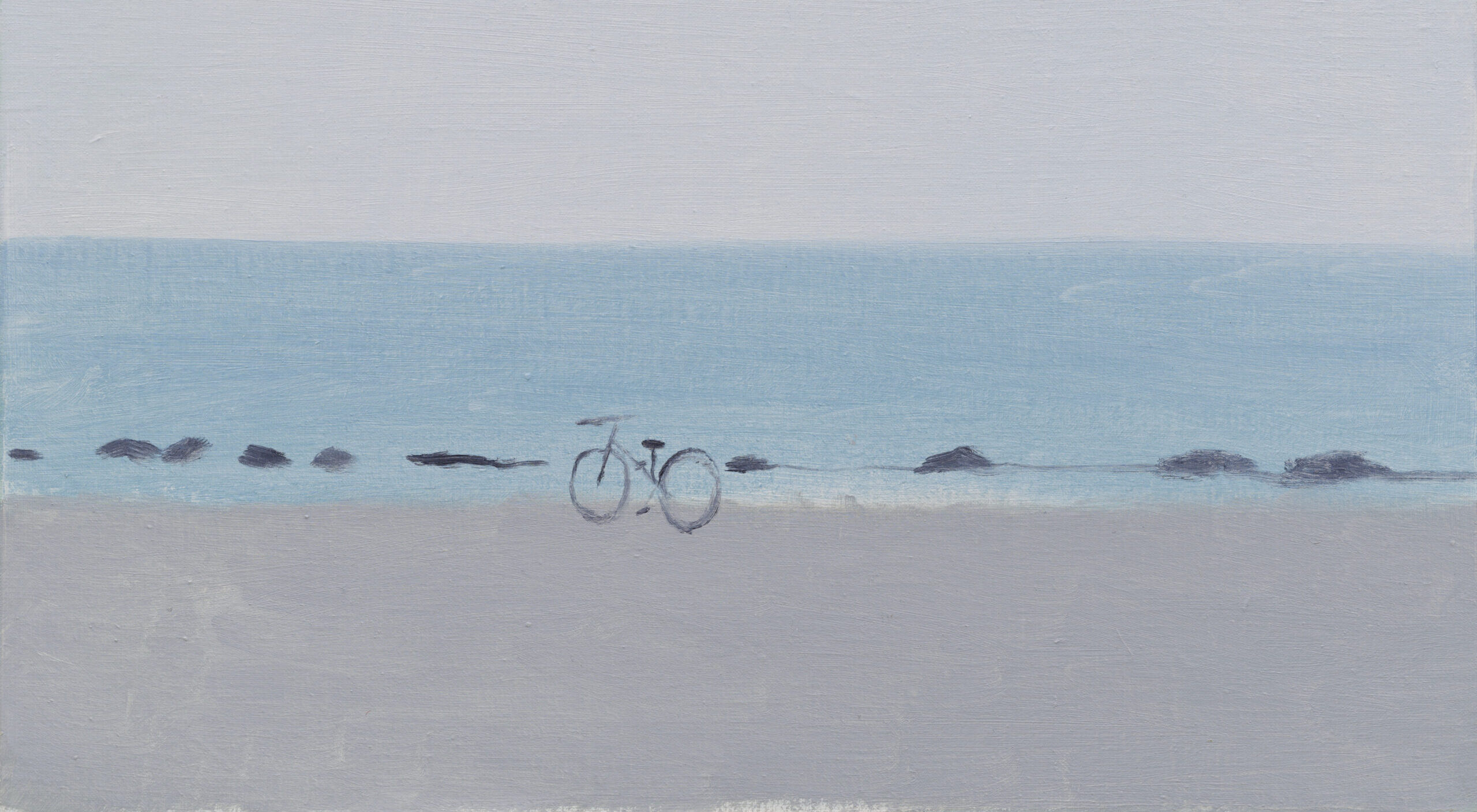 Yu Nishimura December Light
November 17, 2023-January 19, 2024 – Monaco
curated by Oriane Durand
From November 17th 2023 to January 19th 2024
Società delle Api is delighted to announce that Le QUAI will host the first solo show in Monaco by the Japanese artist Yu Nishimura, entitled December Light. The exhibition, curated by Oriane Durand, presents a series of paintings, old and new, specially conceived for Monaco, which explore how the clear light of winter affects landscape and perception. As he usually does, the artist has focused on the environment of his workplace. Yu Nishimura's studio is in Yokosuka, a two-hour train ride south of Tokyo. Not dissimilar from Monaco, Yokosuka is surrounded by the sea on one side and numerous hills on the other. Both urban and natural landscape, clinging onto the cliffs, get reflected onto the sea. The contrast between the warmth of the sun and the cool December air creates a specific sort of haze, a unique type of light. Unlike the dazzling and contrasted summer light, the winter sun allows for subtle nuances. With the show December Light, Yu Nishimura seeks to capture on canvas moments of everyday life and atmospheres that are characterized by nameless emotions. In doing so the artist introduces a wider reflection on painting as a tool for non-verbal communication, where the exploration of color becomes an emotional gradient encompassing joy, anger, sadness, or pleasure.
BIOGRAPHICAL NOTES
Yu Nishimura was born in 1982 in Kanagawa (JP) where he lives. Recent exhibitions include Crèvecoeur, Paris (FR), KAYOKOYUKI, Tokyo (JP), 21st Century Museum of Contemporary Art, Kanazawa, Ishikawa (JP), Dawid Radziszewski, Warsaw (PL), Tokyo Opera City Art Gallery, Tokyo (JP), Museum of Contemporary Art Busan (MOCA Busan), Busan (KR), Nezu Museum, Tokyo, The National Art Center, Tokyo, The Ueno Royal Museum, Tokyo (JP), The Hiratsuka Museum of Art, Kanagawa (JP). Collections include: Kiyosu City Haruhi Art Museum / Aichi, The Taguchi Art Collection, M-Woods Museum, The Taguchi Art Collection, 21st Century Museum of Contemporary Art, Kanazawa.
Oriane Durand is a curator and author, living between France and Germany. From 2015 to 2020, she directed the Dortmunder Kunstverein, followed by the Kunstverein Bielefeld in 2023. Previously she worked as a curator for the Kunstverein in Nuremberg and in Bonn. In August 2020 she founded the independent project space Le Berceau in Marseille. She is a regular contributor for Frieze magazine and artists catalogues. Amongst others, she has curated the first institutional solo exhibitions in Germany by Raphaela Vogel, Sol Calero, Elaine Cameron-Weir, Mimosa Echard, Sara Sadik und Tolia Astakhishvili.